Beijing, China, March 2, 2016 – Dialog Semiconductor Corporation (Frankfurt Stock Exchange: DLG), a provider of highly integrated power management, AC/DC power conversion, solid state lighting (SSL) and smart Bluetooth technology, announced today that it has launched two The new drive controllers for high-power (up to 90W) commercial LED lighting applications -- the iW3629 and iW3631. In these applications, stroboscopic lighting is important to avoid eye strain, especially when exposed to light sources for extended periods of time. Digital control of Dialog's patented FlickerlessTM technology enables near-zero power-frequency ripple and provides high current stability to eliminate flicker.

The iW3629 (non-dimmable) and iW3631 (dimmable) digital power controllers replace up to 45 discrete components, simplifying LED power supply design. Both controllers allow small input and output capacitors, as well as small-sized transformers to optimize performance while reducing power supply size, bill of materials, and cost. These controllers offer power factor (PF) better than 0.95, less than 15% total harmonic distortion (THD) and more than 85% conversion efficiency over a wide load range, easily meeting the requirements of Design Lights ConsorTIum (DLC)1 .

The two controllers feature a two-stage design that supports a wide range of AC inputs (90-277 VAC), active startup, and boost circuits that feed the flyback converter, and the flyback converter provides continuous LEDs. Current. Quasi-resonant control is applied to both boost and flyback conversions to maximize power efficiency. Dialog's PrimAccurateTM primary side control technology provides excellent line and load regulation without the need for secondary side feedback components. The fast, smooth start is completed in half a second and the PF settling time is very short.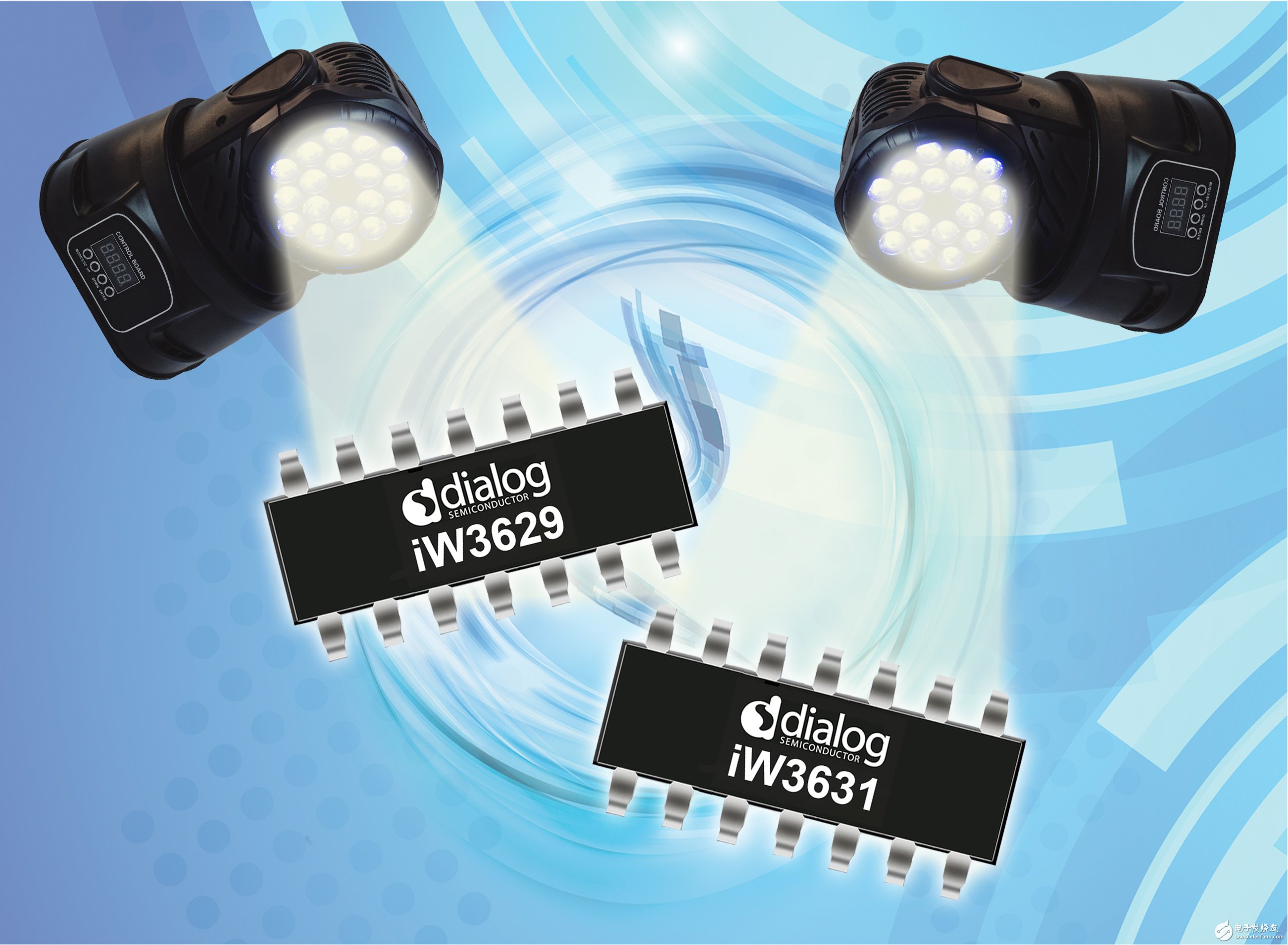 The iW3631 dimming controller offers a 1% - 100% dimming range with no flicker and no flicker. The controller includes a built-in interface to drive industry-standard 0-10V analog dimmers (thus eliminating the need for external drive sources or microcontrollers), and a dimming interface that supports wireless solid-state lighting applications.

Davin Lee, senior vice president and general manager of Power Conversion Business at Dialog, said: "Commercial LED lighting customers have the most demanding requirements for LED lighting performance and reliability. But this market, like the consumer market, is also very price sensitive. So we insist Relentlessly helping customers design lighting solutions that combine state-of-the-art performance with the lowest possible cost. These two new high-power LED driver controllers follow this philosophy and are powered by proven, patented technology. Obvious competitive advantage."

The iW3629 and iW3631 are currently undergoing sample trial production and will be available in volume in the second quarter of 2016.

Digital controllers for high-power commercial LED lighting applications are on display at Strategies in Light: March 1-3, 2016, Santa Clara Convention Center, Santa Clara, California, USA. The DesignLights ConsorTIum is an industry organization that aims to define and promote the most advanced, high quality and efficient commercial lighting by bringing together the forces of the industry.

About Dialog Semiconductor

Dialog Semiconductor offers highly integrated standard (ASSP) and custom (ASIC) mixed-signal integrated circuits (ICs) for mobile computing, IoT, smart home and lighting applications. With decades of experience, Dialog is able to rapidly develop a wide range of ICs, providing business partners with flexible and dynamic support, world-class innovation and security services. Dialog works with world-class manufacturers to adopt a fabless business operation model. As an employer, Dialog actively assumes social responsibility and conducts activities to benefit employees, communities, other stakeholders and the natural environment.

Dialog Semiconductor's DC-DC configurable system power management and other energy-saving technologies enhance efficiency and enhance the consumer's user experience by extending battery life and enabling fast charging of portable devices. The company's technology portfolio also includes audio, smart Bluetooth® Smart®, fast charging Rapid ChargeTM AC/DC power conversion and multi-touch technology.

Headquartered in London, Dialog Semiconductor has sales, R&D and marketing facilities worldwide. In 2014, Dialog achieved revenue of approximately $1.16 billion and is one of the fastest growing listed semiconductor companies in Europe. Currently, the company has 1,500 employees worldwide. Dialog is listed on the Frankfurt (FWB: DLG) stock exchange (Regulated Market, Prime Standard, ISIN GB0059822006) and its stock is a constituent of the German TecDax Technology Stock Index.



Designed in a variety of structures from 12 AWG to 22 AWG , shielded type and unshielded type .
Cables are available from 2 cores to 20 cores, stranded and solid, conductor can be bare copper or tinned copper.
Support different applications and environments include security systems, alarm systems, power-limited control circuits systems,etc.
Alarm Cables

Alarm Cables,Cable For Fire Retardant,Cable For Fire Alarm Circuit,Alarm Security Cable

CHANGZHOU LESEN ELECTRONICS TECHNOLOGY CO.,LTD , https://www.china-lesencable.com
March 05, 2021