Recently impulsive, I bought a very low cost electronic tweezers kit. The assembly process is still quite classical. The design style of this circuit is still in the 70s: a CD4017, a NE555, a pair of transistors. Of course, I started thinking about how to achieve it in the most efficient way. Of course, this means that a microcontroller is needed; and we have to achieve the goal of making our resources as low as possible. So can you implement ATTIny10 with 3 I/O ports?

The pattern of the dice contains 7 LEDs, but you may soon find that six of the LEDs are in pairs, so we have 3 pairs of LEDs plus an additional LED to control. This requires four I/O ports - but it's still too much!

To reduce the number of I/O ports needed, one obvious use is Charliplexing. You can find a lot of circuit diagrams on the Internet for Charlie multiplexing technology. In simple terms, Charlie multiplexing technology allows n2-n LEDs to be controlled using n I/O ports. So when we use Charlie multiplexing, we need three I/O ports. But for the ATTIny10 we use it is still too much, because we also need an extra I / O port to "shake the dice".

Charlie multiplexing uses the tristate nature of the microcontroller I/O pins. There are only two I/O ports activated at the same time - one high and one low - while the other pins are high impedance. Only LEDs that are directly connected to the correct polarity and activated pins can illuminate. LEDs on paths that are not directly connected to the pins—such as two series-connected LEDs connected to the active pins—these LEDs do not illuminate because of the nonlinear current-voltage characteristics of the diode. of.

Now, you may be wondering what happens when only one I/O port (not two) is activated. Nothing happens in the Charlie reuse technology solution, but we can take advantage of this.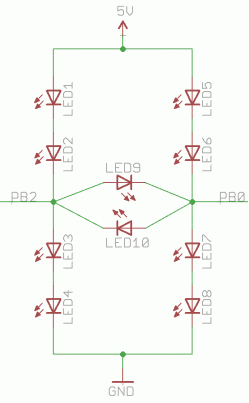 The above circuit shows how to connect LEDs in different ways. In addition to the anti-parallel pairs between the two I/O pins, as a usage habit of Charging Multiplexing, the LEDs need to be connected to VCC (5V) and GND. The sum of the forward voltages of the four LEDs in series (LED1-4 and LED5-8) exceeds 5V, so when PB0 and PB2 are in the high impedance (Z) state, these lamps will not emit light.

When one of PB0 and PB2 is in a high or low state and the other pin is in a high impedance state, then a pair of LEDs will illuminate. When PB0 is high and PB2 is low or vice versa, LED9 or LED10 will be in parallel with a pair of LEDs. At this time, most of the current will flow through a single LED, so only LED9 or LED10 will emit light.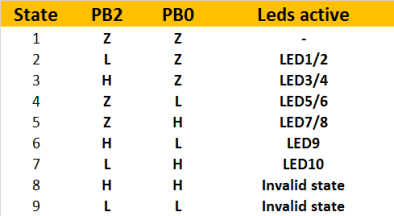 The above table is a possible encoding. see it? Two pins can control six parts of the LED! This is exactly what we need and the task is done.

But one thing to note: the brightness of a single LED is different from the two LEDs in series. This may require corrections in the Charging Multiplexing technique. But in fact, because the human eye is not particularly sensitive to the difference in brightness, the difference between the two can only be said to be barely visible.

Simply test it (LEDs are not arranged like dice). It seems that our new multi-multiplex technology works well. Note that this circuit requires the internal impedance of the AVR I/O interface. This works, but it should be avoided in a "real" design.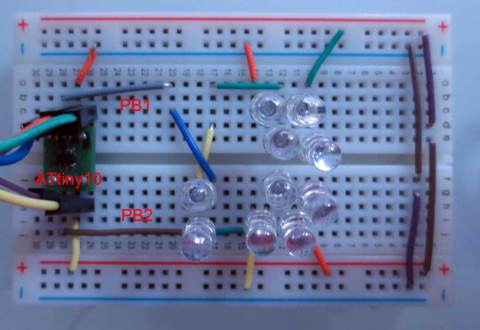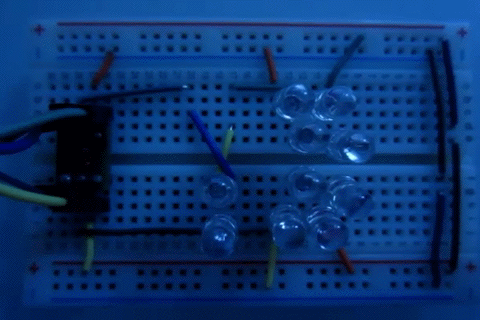 We can talk about this new solution as "Charlieplex Plus". Analysis shows that relying on such a technology, an I/O port can control two LEDs more than ordinary Charlie multiplexing technology. That is to say, the number of LEDs that can be controlled by n I/O ports is 2n+n2-n = n2+n. The details are as shown in the table above.

Should you adopt this approach in your design? I am afraid it should not, because the flaws and limitations of this approach are even more than the existing Charlie reuse. But this is very interesting!

So back to the beginning, how many I/O ports do you need to control the electronic dice?

The answer is 2.

SMT Other Parts







Smt Spare Part

Smt Printer Spare Parts

Printer Spare Parts

Dek Printer Spare Parts

Dek Smt Spare Parts

Smt Machine Dek Printer Spare Parts

Original Smt Gas Spring

Gas Spring

Smt Gas Spring

Smt Fuji Gas Spring

Smt Spline

Smt Shaft

Original Smt Spline

Original Smt Shaft

Smt Parts Power Supply

Smt Feeder Power Supply

Smt Power Supply

Power Supply

Smt Fuji Pulley

Original Smt Pulley

Smt Pulley

Smt Conveyor Belt Pulley

Smt Motors

Smt Juki Motors

Original Smt Servo Motor

Original Smt Motors

Holder For Smt Type

Smt Battery Holder

Smt Holder

Battery Holder

Filter For Smt Machine

High Quality Smt Filter

Smt Filter

Smt Machine Filter

Smt Tape Feeder Parts

Feeder Parts For Smt Machine

Smt Machine Spare Parts

Original Smt Feeder

Original Smt Cable

Smt Machine Cable

Smt Spare Parts Fuji Cable

SMT Cable

Smt Belt

Smt Siemens Belt

Smt Juki Belt

Smt Conveyor Belt

Smt Camera

Smt Laser

Camera For Smt

Smt Siemens Camera

Smt Parts Plastic Rail

Smt Plastic Rail

Smt Juki Plastic Rail

Juki Plastic Rail

SMT Nozzle For Yamaha

Yamaha Nozzle

Nozzles For Yamaha Machine

Smt Yamaha Nozzle

Smt Siemens Nozzle

Nozzles For Siemens Machine

Smt Nozzle For Siemens

Siemens Nozzle

Smt Nozzle For Samsung

Samsung Nozzle

Nozzles For Samsung Machine

Smt Samsung Nozzle

Panasonic Nozzle

Smt Panasonic Nozzle

Smt Nozzle For Panasonics

Nozzles For Panasonic Machine

Smt Juki Nozzle

Nozzles For Juki Machine

Juki Nozzle

High Pressure Juki Nozzle

I-Pulse Nozzle

High Pressure I-Pulse Nozzle

Nozzles For I-Pulsemachine

Smt I-Pulse Nozzle

High Pressure Fuji Nozzle

Nozzles For Fuji Machine

Fuji Nozzle

Smt Fuji Nozzle

Smt Nozzle

Smt Parts Nozzle

Smt Nozzle For Machine

Smt Spare Parts Nozzle

Yamaha Smt Feeder

Yamaha Feeder

Smt Machineyamahafeeder

Smt Feeder For Yamaha

Smt Feeder For Siemens

Smt Machine Siemens Feeder

Siemens Smt Feeder

SIEMENS Feeder

Samsung Smt Feeder

Smt Machine Samsung Feeder

SAMSUNG Feeder

Smt Feeder For Samsung

Panasonic SMT Feeder

Panasonic Feeder

Smt Machine Panasonic Feeder

Smt Feeder For Panasonic

Smt Feeder For Juki

JUKI Feeder

Juki Smt Feeder

Smt Machine Juki Feeder

I-Pulse Feeder

Smt I-Pulse Feeder

Smt Parts I-Pulse Feeder

I-Pulse Type Feeder

Pneumatic Feeder

Fuji Feeder

Smt Fuji Feeder

Fuji Smt Tape Feeder

Smt Machine Feeder

Smt Tape Feeder

Smt Feeder

Feeder For Smt Machine

Siemens Control Valves

Smt Siemens Valve

Siemens Vacuum Valve

Siemens Valves

Smt Samsung Valve

Samsung Vacuum Valve

Samsung Control Valves

SAMSUNG Valve

Juki Vacuum Valve

Juki Ejector

Juki Vacuum Ejector

Juki Valve

Smt Machine Vacuum Ejector

Ejector For Vacuum

Smt Vacuum Ejector

Smt Vacuum Valve

Cylinder For Samsung

Smt Samsung Cylinder

Samsung Air Cylinder

SAMSUNG Cylinder

Panasonic Pir Sensor

Panasonic Sunx Sensor

Panasonic Original Sensor

Panasonic Sensor

Juki Sensor

Juki Laser Sensor

Juki Smt Sensor

Laser Sensor

Juki Cylinder

Juki Square Cylinder

Juki Air Cylinder

Cylinder Square

Square Cylinder

Fuji Original Cylinder

Fuji Cylinder

Fuji Sensor

Original Cylinder

Smt Cylinder

Air Cylinder

Smt Sensor

Siemens Controller Driver Boards

Siemens Controller Board Card

Controller Board

Siemens Control Pcb Board

Samsung Control Pcb Board

Samsung Controller Driver Boards

Smt Controller Board Card

Controller Driver Boards

Controller Board Card

Control Pcb Board






















SMT Other Parts

Shenzhen Srisung Technology Co.,Limited , https://www.sr-smt.com
December 04, 2020